.This page is dedicated to a fellow AV-8B Harrier Fleet Support Team co-worker, Frank Lehman.
With 37 combined years of service to his country, as a Marine and then as a Civil Service employee, Frank had been the Avionics Logistics Manager on the AV-8B Program longer than most of us can remember.
Frank had been fighting a bout with cancer for about a year, but still insisted on helping the AV-8B Program until he reluctantly had to retired this July.
Francis Richard Frank Lehman, 57, died Sept. 4, 1998 at his home in Newport, NC.
Funeral services were held at 11 a.m. Tuesday, 8 Sept. at Brooks Funeral Home Chapel with the Rev. Edward Barringer officiating. Burial with military honors followed at Ameriah Garner Cemetery in Newport.
Frank is survived by his wife Virginia Lee Lehman: two sons, Richard Allen Lehman and Aaron Dale Lehman, both of Newport; two sisters, Nancy Ann Reynolds and Margaret June Hammond, both of Newport; and three grandchildren.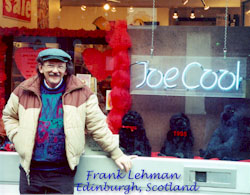 This picture of Frank was taken by Hawk Hibbs in 1995
while they were in Silverknowes, Edinburgh, Scotland on
a government site survey of a GEC - Marconi Defence
Systems, Navigation & Electro-Optic Systems plant.
Copyright © 1997-2018
MooreJ